Are you looking for an assisted living community in Texas that offers not just comfortable living but also a vibrant and engaging lifestyle? Look no further than Buda Oaks, a senior living community nestled in the heart of Buda, Texas.
We are committed to providing residents with meaningful experiences, and July 2023 has been no exception! Let's take a closer look at some of the recent activities and events that brought joy and camaraderie to the residents of Buda Oaks.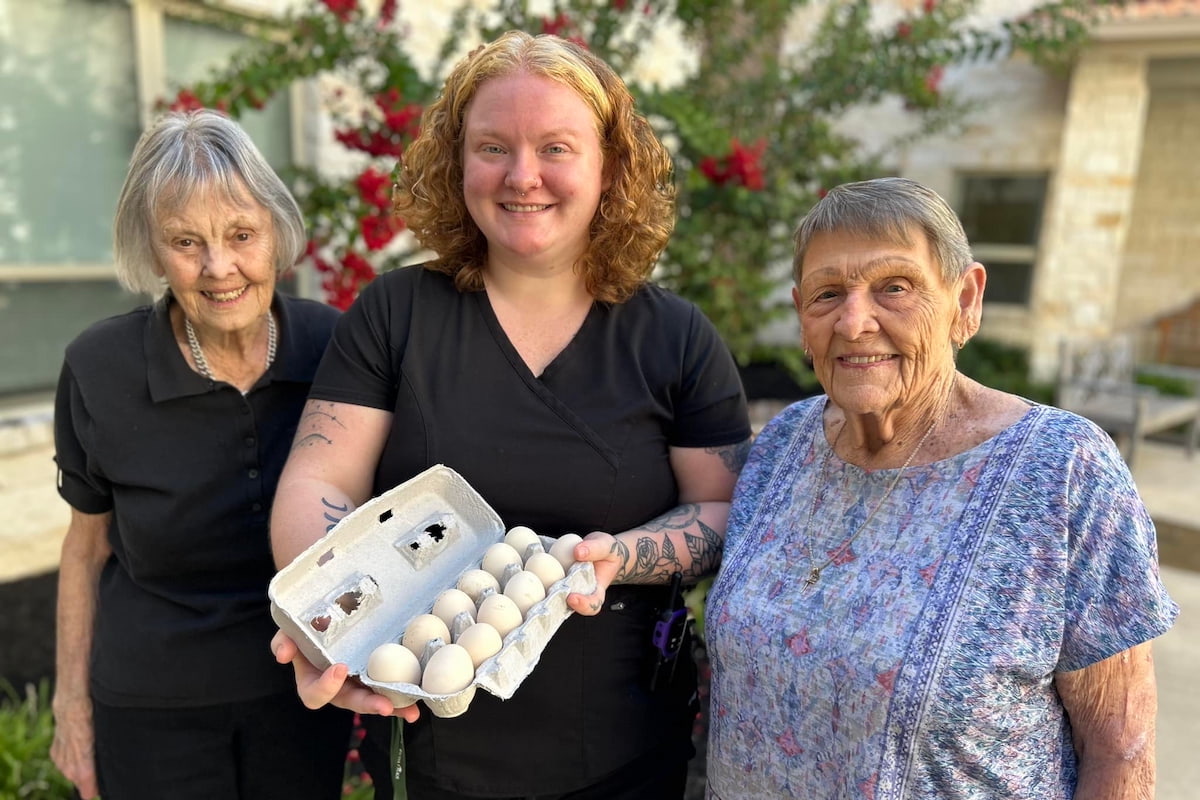 A Journey through History: Commemorative Air Force Exhibit in San Marcos
Buda Oaks staff organized a memorable trip for their residents to the Commemorative Air Force Exhibit in San Marcos. This outing was made extra special as they were joined by their friends from Buda AMVETS. For some residents, this visit brought back cherished memories as they themselves are proud veterans who have served our country with honor.
Walking amidst the aircraft displays, they couldn't help but reminisce about their service days, sharing stories of bravery and camaraderie. The aircraft exhibits sparked lively conversations, and the joyous atmosphere was infectious. The visit not only entertained the residents but also provided an opportunity for the community to bond over shared experiences.
Crafting with Love: Project Linus Quilts
Apart from exciting outings, Buda Oaks residents have been busy using their creative talents for a heartwarming cause. They've been making special quilts for Project Linus, a volunteer-run organization that donates handmade blankets to children across Williamson, Travis, Bastrop, and Hays County.
Engaging in these craft sessions brings immense satisfaction to the residents, knowing that they are contributing to the comfort and well-being of local children. It also fosters a sense of purpose and connection among the residents as they work together, sharing stories and laughter while crafting these beautiful quilts.
Summer Fun Raffle: Celebrating Team Members
At Buda Oaks, we understand the importance of acknowledging and appreciating our dedicated team members. To show gratitude for their hard work and commitment, we recently held a special raffle with a 'Summer Fun Basket' as the coveted prize. The basket was filled with goodies perfect for the season, and Sarah, one of our hardworking housekeepers, was the lucky winner!
Sarah has been with Buda Oaks since its inception in 2020, and her unwavering dedication and warm smile have made her an invaluable part of the community. This gesture of recognition not only made her day but also reinforced the strong bond between the residents and the staff, making Buda Oaks truly feel like a family.
Princess Lay-Ah's Special Contribution
Among the residents' cherished activities is taking care of Princess Lay-Ah, Buda Oaks' beloved pet chicken. Recently, the community had a delightful surprise when Princess Lay-Ah laid her first dozen eggs. We quickly decided to turn this into a charitable opportunity.
Buda Oaks plans to collect future eggs laid by Princess Lay-Ah and donate them to a local food bank. This initiative is an exemplary demonstration of the residents' commitment to giving back and making a positive impact beyond their doors.
Discovering Things to Do in Buda, Texas
Buda Oaks not only provides a variety of engaging activities within their community but also encourages residents to explore the vibrant town of Buda. With numerous things to do in Buda, Texas, residents can enjoy a range of experiences to suit their interests and preferences.
From exploring local shops and restaurants to attending community events and farmers' markets, Buda offers a charming setting for seniors to create new memories and relish life to the fullest. Buda Oaks' dedication to enriching the lives of their residents extends beyond their premises, ensuring a fulfilling and holistic senior living experience.
Buda Oaks exemplifies the best of assisted living communities in Texas. Our focus on meaningful activities, community engagement, and fostering a sense of belonging truly sets us apart. With a deep commitment to both our residents and the wider community, Buda Oaks continues to be a beacon of warmth and care in Buda, Texas.
Looking for Senior Living in Buda, TX?
If you're seeking a place where cherished memories are made and where you can make a difference, Buda Oaks might just be the perfect fit for you. Contact us today and schedule an exclusive tour!