Owning a pet during retirement forms a sacred bond. Older adults can find the motivation to stay active and lead healthier lives thanks to their furry friends. Four-legged friends add structure and purpose to seniors' lives.
Older adults who own a pet shouldn't let that fact interfere with their senior care. If you or a loved one is new to senior living and searching for pet friendly nursing homes in your area, the results may dampen your spirits. However, pet-friendly senior housing does exist, and there are plenty of places in the Austin, Texas area that will be glad to meet you and your beloved pet.
First, let's discuss the difference between nursing homes and assisted living facilities.
What's the difference between a nursing home and an assisted living community?
Nursing homes provide skilled nursing care to people who cannot care for themselves. People recovering from a procedure or injury benefit the most from these facilities. Seniors with chronic conditions who require medical care and 24-hour oversight also receive the services they need to be comfortable.
These facilities are for seniors who may not need an actual hospital stay but cannot live independently. Because of this, short-term visits to nursing homes are usually covered by insurance and Medicare.
The medical facility aspect of nursing homes generally limits pets to service animals. However, pet therapy visits are often frequent activities, and nursing homes may have an area for family and pet visitation.
Assisted living is a form of senior residential housing similar to retirement communities and independent living. They feature luxurious amenities and offer care services that help older adults live independent lifestyles.
These levels of care include:
Bathing, dressing, and grooming
Medication management and administration
Personal care and hygiene assistance
Physical or occupational therapy
Feeding assistance
Transferring
Part of senior care is letting older adults enjoy their lives. Buda Oaks is a friendly assisted living community that allows pets because it's good for senior health. If you or a loved one need long-term senior care, assisted living is where you want to look.
Pets and Assisted Living Helps Seniors
The Buda Oaks senior living community is less than a 30-minute drive from downtown Austin. People in our assisted living and memory care community benefit from personalized care services and daily activities.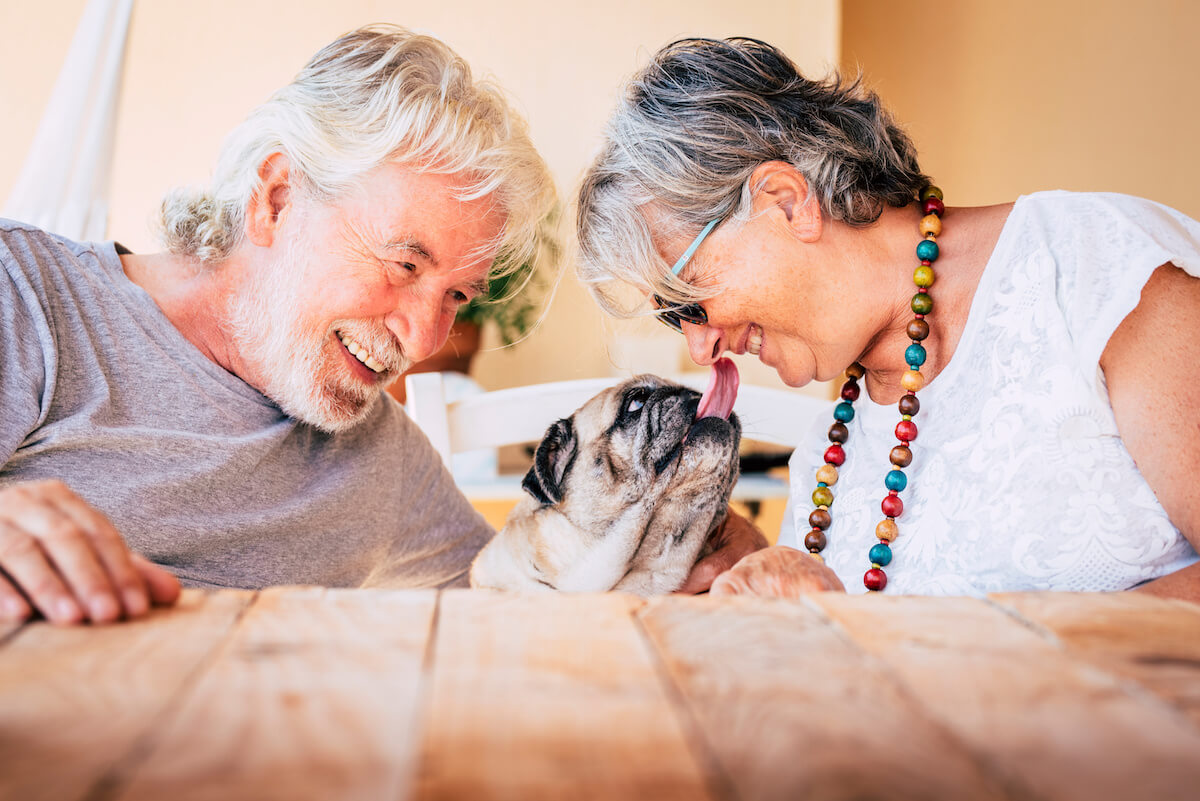 Non-service animal pets may not be able to provide activities of daily living assistance, but they do help improve their humans lives.
A University of California San Francisco study reports that 43 percent of seniors feel lonely, and another 17 percent are considered isolated. Senior loneliness and isolation are associated with higher risks of issues with:
Heart disease
High blood pressure
Anxiety and depression
Alzheimer's and dementia
Feelings of loneliness do not directly cause these problems, but the sedentary lifestyle associated with isolation does. Moving more and sitting less is one of the best ways for seniors to stay healthy and vibrant. Staying active with a dog is also a lot more fun.
A study done in collaboration with the Mayo Clinic notes that, on average, dog owners experience:
Better diets
More physical activity
Ideal blood sugar levels
Taking a dog for a walk also presents the opportunity for seniors to meet people and connect with their neighbors.
Another survey reveals that:
86 percent of pet owners say they would be lonely without their animal companion
58 percent of pet owners say they would not be as healthy without their pooch
82 percent of pet owners say they would not consider moving to assisted living without their little friend
In addition to senior care services and activities of daily living assistance, Buda Oaks provides daily activities, exercises, and amenities. Imagine enjoying many of these opportunities with your pet:
Walks around the paved walking paths
Hanging out on the shaded patio
Curling up in the movie theater with snacks in a big comfy chair
Assisted living communities that allow dogs and cats are a lot more fun. Seniors are happy, and so are their pets. Having a furry friend will help you or a loved one make fast friends at Buda Oaks.
Pets and Memory Care
Buda Oaks also offers memory care services in our secure and calming neighborhood we call The Retreat. Seniors living with dementia can find relief with the guidance of our specialized caregivers and individualized activity programs.
Memory care residents may not be able to care for a pet of their own, but much research shows that animals can positively affect their wellbeing. Residents in The Retreat enjoy animal companionship when we have pet therapy visits.
Robotic pets are also a tool family members can use when caring for a loved one with Alzheimer's or another form of dementia. Animatronic animals have been known to calm agitation and lower levels of depression.
Find Pet-Friendly Assisted Living Near Austin, TX
Visit Buda Oaks to find a forever home for you and your pet. Our senior living team can't wait to answer your questions and give you a tour of pet-friendly assisted living in the Austin area. Contact us today!