Who needs senior apartments in Austin, TX?
According to the Texas Health Care Association, there are over 3200 senior living facilities in the Lone Star State. Over 1200 of these facilities are nursing homes, and 55 percent of their residents live with a form of dementia.
In Travis County, there are over 116,400 people over the age of 65. Austin consistently ranks as a good retirement destination, making the competition for senior housing a bit tough. The national average for senior housing is about $4,000 per month. Austin senior apartments tend to be on the higher end.
Twenty minutes south of downtown Austin, Buda Oaks offers forward-thinking senior living with a unique vibe to capture the capital city's spirit.
Is senior living the same as senior apartments?
Yes! At Buda Oaks, we offer five different floor plans to be inclusive of various lifestyles. Our assisted living and memory care community provides age-qualified senior housing with the added benefit of personalized care services.
Many independent living facilities and retirement communities offer apartments to improve seniors' lives. However, when older adults' needs change, they are forced to seek higher levels of care.
People living in nursing homes generally stay for a temporary period. As the most expensive form of senior living, these facilities supply skilled nursing care to older adults who cannot live independently.
Falling in the sweet spot of retirement is assisted living.
What's the design of an assisted living apartment?
Seniors who choose assisted living can maximize their level of independence. Care partners and an entire team of senior living professionals orchestrate personalized ways for older adults to live their best lives.
We allow seniors to choose from two spacious studio options and one-bedroom apartments at Buda Oaks. Residents are free to decorate their homes however they want. Inside these pet-friendly living spaces, you'll find:
Kitchenette
Private bathroom
Walk-in shower
Walk-in closet
Grab bars in the bathroom
Individually controlled temperature
Maintenance service
Weekly housekeeping, laundry, and linen service
Studios and apartments make life easier for seniors. Less stuff equals less hassle and less worry. Residents can receive activities of daily living assistance in the privacy of their homes. This benefit frees up time to enjoy all the community's amenities and activities.
What are the benefits of senior apartments at Buda Oaks?
We encourage retirees to have fun because it's good for their health! Isolation and loneliness are especially dangerous for seniors. According to research published by the CDC, these factors are more hazardous than significant weight gain, physical inactivity, and smoking. Lack of socialization contributes to:
A 50 percent higher risk of dementia
Around a 30 percent higher risk of heart disease and stroke
An increase in mental health issues like depression and anxiety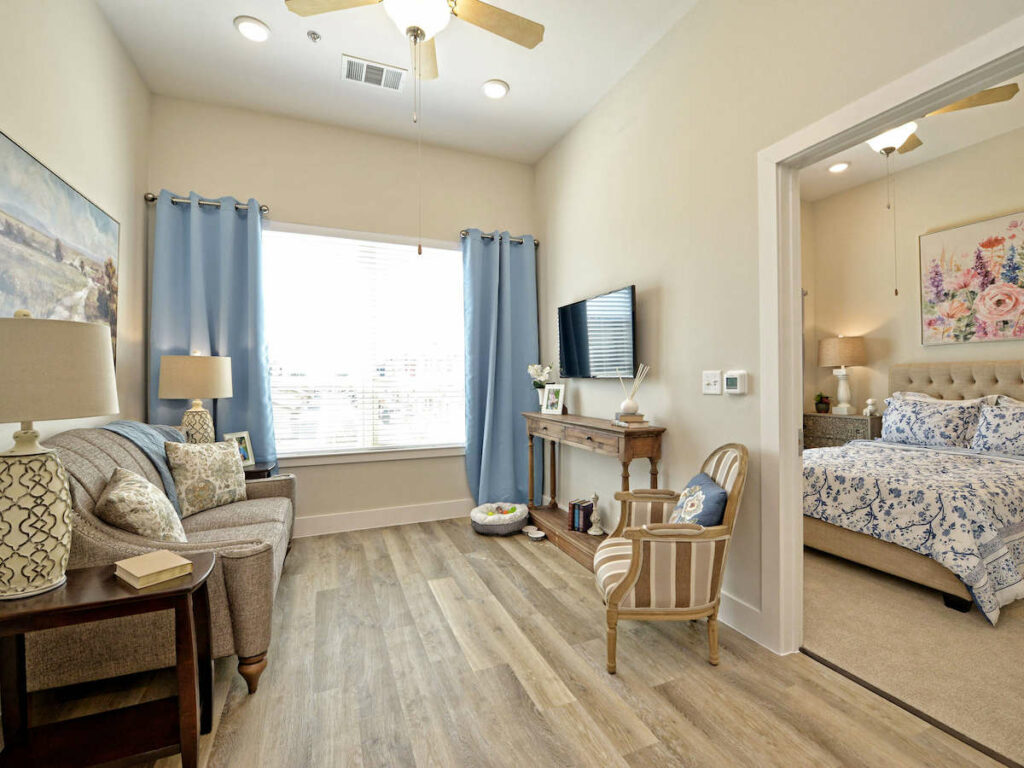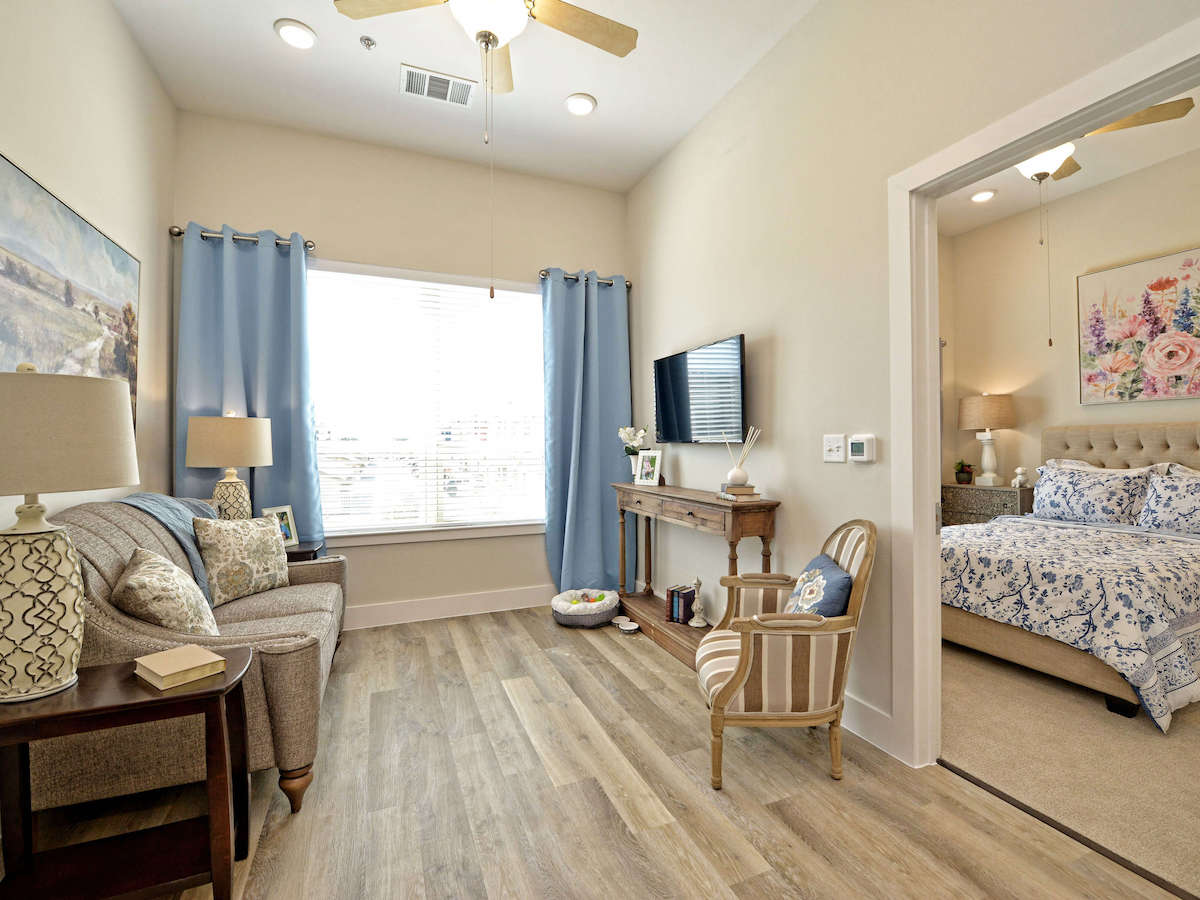 Life for our seniors revolves around good fun, good food, and good friends. Some of our community amenities include:
Putting green
Comfortable common areas
Restaurant-style dining room
Beauty salon and barbershop
Garden area and outdoor patio
Movie theater and activity room
Fitness center and walking paths
Scheduled transportation
That creates a lot of opportunities for senior fun, but our calendar of activities is what builds friendships and enjoyment in our senior living community. Some of the activities to enjoy include:
Live entertainment and classes from Austin-area acts and artists
Stretching, strengthening, and cardio classes
Group trivia, bingo, and card games
Happy hours and special events
Crafts and creative activities
Gardening and nature experiences
Community trips to lunch, shopping, and entertainment
Behind the scenes, much care planning goes into the individualized senior health care residents receive to have the energy to participate in all of our activities. Imagine how easy life can be with:
Nurse oversight
Medication management
Continuous monitor of health
Bathing, dressing, transferring and feeding assistance
With individualized care plans, seniors only pay for the services they need. Older adults who may not currently require assistance can benefit by already living in a community designed for their future needs. Aging in place becomes increasingly more accessible at Buda Oaks thanks to our dementia care services.
What is memory care?
Alzheimer's and dementia affect over six million seniors in the United States. Eleven million family members are struggling to provide care. Memory care offers a secure and calming environment to honor those living with cognitive impairment to relieve the caretaker burden from families.
The Retreat at Buda Oaks is our neighborhood for seniors living with dementia due to Alzheimer's, Parkinson's, or other causes. These residents can benefit from the same care services and assistance as our assisted living residents. We offer care for the early stages of dementia and beyond.
The added benefit is a team of memory loss professionals offering specialized care. Dementia care associates understand the unique challenges that these residents face. Through encouraging hobbies new and old, we provide a way to:
Slow memory loss using evidence-based methods
Reduce anxiety and confusion
Add purpose and enjoyment
Memory care residents live in either private or companion suites. Shared spaces sometimes make the transition to senior living easier for people with dementia. It encourages new bonds and a support system between people going through similar experiences.
See Senior Apartments and Amenities in Person
Visit the Buda Oaks assisted living and memory care community by contacting us. Our team of senior living specialists is happy to answer questions, offer resources, and guide tours of your new home.