A Heartwarming Tale of Compassion, Healing, and Doll Therapy
Our award-winning assisted living and memory care community in Buda, TX is more than just a residence for seniors. We provide a haven where love, compassion, and understanding flourish.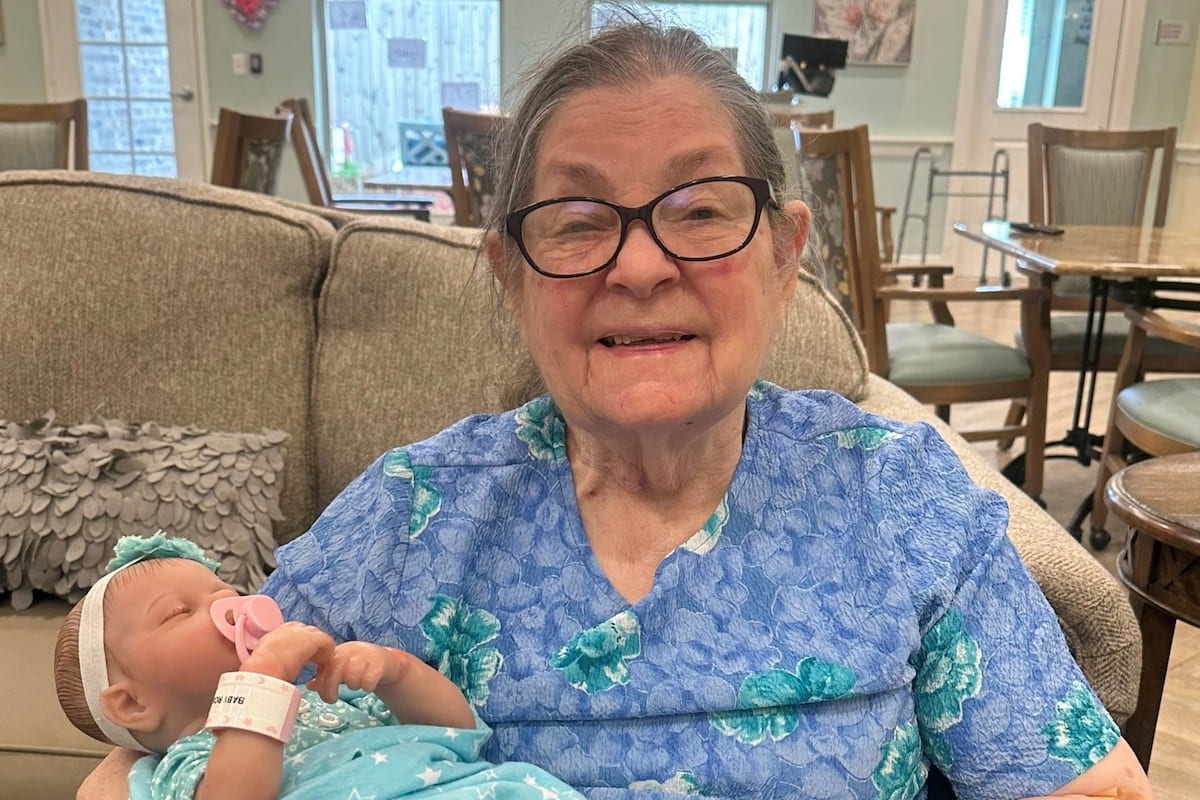 We bring people together and form close bonds with neighbors in and outside the community.
Join us on a touching journey that encapsulates these values. Continue reading to learn about doll therapy for dementia. It is one of our newer innovative programs to enhance the lives of residents with Alzheimer's and dementia.
The Gift of Love: Rosa's Legacy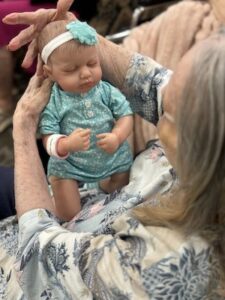 A unique aspect of our memory care neighborhood, The Retreat, is our commitment to incorporating therapeutic programs into our residents' daily lives.
Our new doll therapy program is designed to provide comfort and companionship to residents dealing with memory-related conditions.
This activity garnered local media outlets' attention and captured Central Texans' hearts. It eventually brought us our newest "resident."
Home care is an option many family members choose for their loved ones. One of our Buda neighbors was a hero who supported her grandmother with dementia. She saw the positive impact of doll therapy and decided to try it at home.
Unfortunately, her grandmother passed away before they could experience the benefits of the therapy together. In a heartwarming act of kindness, the neighbor honored her grandmother's memory by donating Rosa to the residents in The Retreat.
Rosa has quickly become a cherished member of our community. This act of compassion underscores the power of our doll therapy program and its ability to foster emotional connections and enrich the lives of our residents.
The Power of Doll Therapy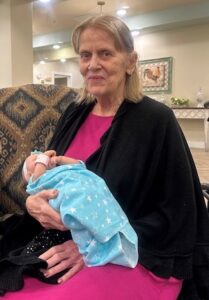 Buda Oaks officially rolled out its doll therapy program in the spring of 2023. Memory Care Coordinator Theresa Panzino initiated the program by handing each memory care resident a doll. The room was filled with joy and warmth as residents interacted with their new companions.
Dolls mimicking a real baby are an effective tool in memory care. It stirs memories of parenthood and promotes feelings of familiarity. It gives residents a sense of purpose and responsibility, encouraging communication and interaction.
This practice can significantly reduce feelings of agitation, aggression, and anxiety often associated with memory loss. It's a similar outcome as art or music therapy for dementia.
This form of non-pharmacological intervention can provide immense benefits for individuals with dementia. It's a testament to our commitment to improving the lives of residents through innovative and effective methods.
A Commitment to Care
"We are committed to offering the best care possible, and we believe in the transformative potential of therapeutic programs like our doll therapy," shares Crista Wallace, Community Relations Director at Buda Oaks. "The joy and warmth that filled the room as our residents interacted with the baby dolls was absolutely heartwarming."
Buda Oaks is a community dedicated to providing compassionate care and enhancing the quality of life for each resident. We strive to create an environment where residents feel loved, understood, and valued.
Stories like Rosa's remind us of our work's impact on our residents' lives and inspire us to continue innovating and caring for those who call Buda Oaks home.
Discover Doll Therapy in Dementia Care Near You
People living with dementia benefit from being stimulated and finding purpose in their daily activities. Caring for a doll is only one example of our comprehensive memory care program. Contact us and discover the benefits of The Retreat.